In my battles with the wenches of print media, The Sun has proved to be a more than able sparring partner, throwing up tough bitch after tough bitch of tabloid grittiness. But as I entered the newsagents this morning, a new beast appeared: the four-in-one bumper pack of women's gossip magazines. OK! New! OK! USA, and Star emerge from the cellophane like the multi-headed beast Medusa from her cave, sporting the heads of Coleen Rooney, Jordan, X Factor contestants, and Taylor Swift. I am outnumbered by this grotesque monster, with its its orange skin and frothing gossip come to overpower me.
OK! is clearly the classiest of the four magazines on offer here, its velvety red logo oozing the sophistication which its sister lack. Look at the horrible yellow writing on the cover of Star, the ugly slag whose only draw for the punter is that she's cheaper than the rest. She has no self-respect, letting headlines shoot their loads all over her logo for just 90p.
"Parents should call their baby whatever they want" is OK!'s front page headline quote from Wayne Rooney's missus. I'd always wondered what level of insight is required to make the front of a "SPECIAL ONE-OFF NOVEMBER SPECTACULAR". Now I know, and it isn't as spectacular as I thought. Imagine if Coleen had said that parents should not call their children whatever they want- imagine how spectacular November's edition would have been then!!! Maybe they would have made it into an ITV4 documentary series with Coleen, wearing jack boots, marching into maternity wards and naming all of the children Wayne, after her special little thug of a husband.
Now I'm pretty sick of the sight of these things, and I haven't even looked inside them yet. I try to convince myself that I can infer enough from their covers without delving inside. I realise that this is not possible, and open up OK!, telling myself that 500,000 people a week can't be wrong.
An interview with a talent show contestant's sister is the first article I see. I cannot bring myself to read it, so head out of the office for a Cornish pasty, hoping that this task will have disappeared when I get back. Ten minutes later the X Factor gimp's face is still there, like one of my Dad's turds which need poking down the toilet with a stick. 500,000 is twice the circulation of The Independent newspaper, so just think about how many brain cells are being killed every week by people reading this.
Star magazine has the plums to criticise what people are wearing, whilst promoting these babies:
A jump across the pond, and OK!USA advertises Angelina Jolie's 'secret past'. In my infinite hypocrisy, years of teenage lust make me pretty interested in this. If it turns out that her 'secret past' was covertly travelling around the Midlands looking for nerdy, chubby teenage boys to help practice her sex scenes with, I think I will impale myself on my own disappointment at having missed out.
I continue to think that the woman in dark sunglasses being chauffered around Leicestershire in a Vauxhall Vectra, circa 2003, could have been her. I am further encouraged by the juicy revelations that Jolie was busy being filthy when she was just 16. I am loving OK!USA, and to think that I had such low expectations…
If I'm going to have to read a whole article, it's going to be "Jordan and Peter reunite for Harvey", in New! magazine, since this looks like the biggest news story.
Jordan reveals, "You can have a conversation with him, but it's small talk. But I can communicate with him, which is a real achievement." I'm not sure if she is talking about her disabled son Harvey, or equally inarticulate ex-husband Peter Andre. Most interesting, perhaps, is that some bookies were apparently offering odds of 1,000/1 on the glamorous couple getting back together. I wish I'd put money on Jordan getting back in to bed with him. Especially since it's totally going to happen! Their break-up was just a publicity stunt, they've always planned to get back together! And then Jordan will contract some sort of deadly illness like her rival Jade Goody, or die in a car crash, or be crushed by the weight of her own stupidity, and then these magazines will be the first to report it, comparing her to Princess Diana and demanding a state funeral…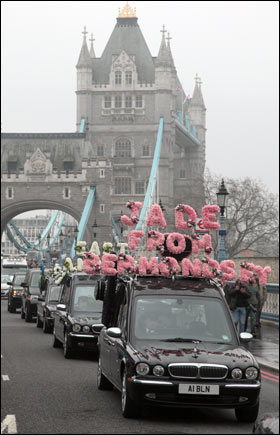 If it means we see the last of her, I'd put up with a state funeral.
Do you know of a magazine, newspaper or journal that you would like me to read? Send suggestions of further reading to [email protected] or leave a comment below.