It's that special time again. A time when young folks around the country come together to experience the bliss of the communal exam experience.
If you're anything like me, you're so unbelievable productive when revising that what you really need is some good advice on how to be slightly less productive, just to make sure you don't overdo it or anything. Lucky for you, I've compiled this definitive list of the all-time best revision aids in the world… ever.
The Daily What - Absolutely the best thing ever full stop. Gets updated so often that you can be guaranteed there'll be a new post by the time you've finished reading the current one. I shouldn't really be starting with this because there is zero chance that anything else on this page is going to better it.
Antville - It's mission statement is simply the three best words in the English language: 'cool music videos'. And that's what they have. As well as a few shit ones.
We Love You So - Spike Jonze has a blog for his Where The Wild Things Are movie, and he uses it to post amazing videos like this:
Ohh! Crapp… - Loses marks for being unbelievably 'blog' but gains marks for being well designed, frequently updated and full to the brim with stupid ravey remixes of Royksopp songs.
Cockeyed.com - Not technically a blog but you could easily spend entire days digging through the 11-year archives of this phenomenal collection of 'projects'. WARNING: May cause exam failure.
Spotify - If you haven't already jumped on the Spotify bandwagon you're a fucking idiot. Free music for free that you don't have to pay for because its free. How much better could it get? E-mail me if you need an invite.

Babarosa Gif Animator - I'm sure there's a better program than this by now but this works fine so download it and waste your time making shit like
PodUtil - Get your friends round under false pretenses, tell them to bring their iPods, plug them in to your computer and save yourself a fortune (assuming your friends have acceptable music tastes).

Tweetdeck - Even I'm sick of this one but if you want to have Twitter shouting at you from the comfort of your own desktop, this is the way forward.
Down Them All - If you're the sort of person who cares about things like this (i.e. me) then you've probably already got this. It's a download manager (perfect for the blogosphere!)
Baby Venom - Self-consciously lo-fi (aren't we all) indie band from Baltimore. Now they chill in Dalston.
Download: 'Frank', 'Moms and Dads'
Troy This - Looks and sounds like Mika's uglier cousin but has an amazing ability to make stupid lyrics sounds incredible.
Download: 'Back That Up Fresh', 'American Dream (feat Robyn)'
Shake Aletti - They're from Sheffield and they're amazing.
Download: 'The Way He Does'
The Vanish - Two straight men form Sophie Ellis Bextor tribute act.
Download: 'I Don't Speak French', 'Heartbeat'

Duchess Says - Loud and that. This year's Crystal Castles (is what an idiot would say).
Download: 'C.H.O.B.', 'Black Flag'
Flight of the Conchords - Fuck yeah! It's back. As ever, it's on quite late so you might be thinking it's not going to disrupt your revision shcedule, but don't worry, because it'll be on iPlayer this year.
The Apprentice - Ben To Win (even thought it'll be Kate, which is fair enough)
The Big Bang Theory - If you've yet to give this a chance, please view this:
Eurovision Song Contest - For those who really want to make the effort, there's a mass twittering event going on at the same time.
Have I Got News For You - If you don't think this is still the funniest program on television (when Harry Hill is off the air) then you're just wrong.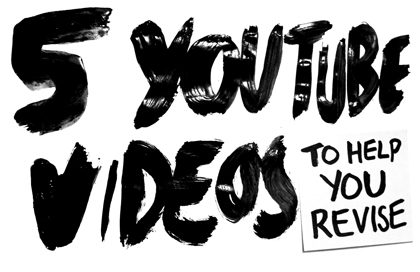 Autotuned News
A Pig Dancing
Box Cat
Wolverine (in 30 Seconds)
Subwoofer Cat
Twin Peaks - If you're not familiar with the Peaks, you need to be. The most bizarre, brilliant and effortlessly cool TV show ever. Expect plenty of this.
Garth Marenghi's Darkplace - Almost as bizarre, and definetely funnier. Expect plenty of this.
Star Trek - You know, now that it's cool again.

Director's Label - Porn for people who like indie music video directors and care about region encoding.

Kubrick - To shut people up.
NOW RETURN TO WORK.

Good luck etc (especially anyone who's doing further maths – holla)
WORDS CHARLIE LYNE