While talking to a band from Melbourne, Australia, one of its members told me that he thinks his city has the best music scene in the world. This is typical of the passion which local bands can have for each other's music and the tight friendships which keep music scenes alive; going to one another's shows, borrowing tour vans and slapping each other's backsides after gigs are the gestures which hold it all together, but only seem meaningful to those on the inside. Yet we are missing out if we treat bands as islands and fail to explore the environment in which they work. With the state of the internet and music streaming, we can explore music scenes from all over the world from our laptops, and in turn drill through to the souls of many different places. Forget house prices and crime rates- I believe that delving into a town's music scene is the most immediate reflection of the state of its creative community, which is the most important characteristic by which it should be judged. For this reason, I will be exploring music scenes which don't get as much attention as they ought, in the hope of shedding new light on places that aren't London, Paris or New York. The first such music scene I will be looking at is the plethora of bands who operate in a tight-knit community in Melbourne, Australia.
The Twerps
www.myspace.com/thetwerpstheband

Marty is the bloke I was talking to, and he plays guitar and sings for The Twerps, a fantastic band who I stumbled across just before the summer, and opened this whole rabbit hole for me. 'Dance Alone' is an addictive pastiche of 1950s rock'n'roll with hilariously sweet spoken word verses, a great big chorus and jangly guitar. It's a stone cold classic, you have to hear it.
'I love the 50's tunes and even the cool funny lifestyle, it all seems so neat, tidy and daggy. I'd love to be sucking down cherry coke in a diner whilst people are listening to Elvis and Buddy Holly and some girl in rollerblades is rolling over to me with a cheeseburger… that'd be amazing!! Better than sipping coffee with some poser in some pretentious fucking cafe!' said Marty, explaining why four Aussies have produced a great piece of Americana. Just don't expect them to be teaming up with Starbucks to release their album.
The Twerps aren't yet successful enough to have quit their day jobs. The founding members Rick and Marty still work in the video store where they met, but they're looking to release an LP next year on Chapter Music, and are booking a US tour with The Eddy Current Suppression Ring.
Beaches
www.myspace.com/theskywaswhite

A five-piece girl band comprising members of Spider Vomit, Love of Diagrams and Panel of Judges. They have the sound of Vivian Girls driving at 120mph down coastal roads with Sonic Youth on the stereo. They are also good looking and well-dressed, as if the Vivian Girls comparison didn't make them cool enough already. Their self-titled debut album was released in 2008 on the forward-looking Melbourne label Mistletone, which is also the home of Beach House, Dan Deacon and Panel of Judges. It is a really fine album with screeching guitars smothering mean pop tunes.
Panel of Judges
www.myspace.com/panelofjudges
At the heart of the Melbourne music scene is the trio who have been making music and playing shows for over a decade. They headline shows with The Twerps as support, and the guitarist/singer Alison Bolger is also a member of Beaches. Their latest album, Bad Vibrations, features guest performances from other players on the Melbourne scene such as St Helens and Spider Vomit. Their music is critically acclaimed, probably because they are like a less-experimental Stereolab.
Spider Vomit
www.myspace.com/spidervomit
Guitar/vocalist Craig Dermody is also a member of the Guided by Voices-inspired Scott and Charlene's Wedding, but his best efforts come in this loud, grungey head killer of a band who make me want to go to more gigs in underground hovels where people wear black band t-shirts and break each other's faces for fun.
Darren Sylvester
www.myspace.com/darrensylvesterband

Luke Steele from Perth's The Sleepy Jackson and Empire of the Sun was labeled a 'genius' by the music press seemingly because he could write sunny pop tunes and was an erratic control freak. Darren Sylvester is way more of a 'genius' than Steele, because he has made a wonderful 80s-inspired pop album as a side project to his work as an already-successful photographer and visual artist.
ZOND
www.myspace.com/zond

Formed by members of Fong, Library Punks, On, Mum Smokes, Ned & the Meds and Wasted Truth, this collective have a broad pallet, with the guitar as their brush; from dense walls of feedback to screeching, screaming fuzz, this band are many shades of heavy.
The Crayon Fields
www.myspace.com/thecrayonfields
Releasing their second album, All the Pleasures of the World imminently on Chapter music, this four-piece play angular pop with crafty plays on film soundtracks and sixties girl groups.
Other notable mentions:
Scott and Charlene's Wedding
Love of Diagrams
The Eddy Current Suppression Ring
Super Wild Horses
Pets With Pets
Mum Smokes
The Ancients
Pageants
Acid Casualty
Dirtbag
Witch Hats
I've never been to Melbourne, and until recently, it was lingering alongside Helmand Province in my List of Places to Visit.  But Australia's second biggest city is clearly coming of age as an artistic oasis, as is evident in its young but maturing music scene. My research was far from exhaustive, but it may not come as a surprise to find that the country whose pride and joys are AC/DC and Merv Hughes isn't pioneering new and exciting dubstep and grime remixes. Or if it is, I couldn't find them.
In The Twerps, they have potential hit-makers, in Beaches a fine, fine piece of work with their debut album, and a really exciting prospect is emerging in both of Craig Dermody's bands, Spider Vomit and Scott and Charlene's Wedding, as well as all the others I probably scandalously forgot to mention or was too lazy to find. While the bands themselves may not appreciate the fact that none of them seems destined for superstardom, this presents a better prospect for Melbourne's musicians as a whole, since no-one will bring undue hype and attention to the area which eventually blows up in everyone else's faces; so while The White Stripes may have come good out of the music business's mild obsession with Detroit in 2001/2002, look what happened to the rest of them: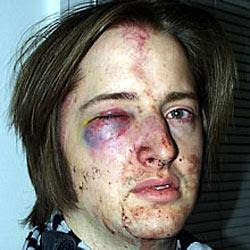 It may come as a surprise to learn that this article is not sponsored by the Australian tourist board. But if they'd like to pay for my flights, I'd happily move Melbourne to the Number 1 place I'd like to visit, knocking Skegness off the top spot. Now I'm going to put Dance Alone by The Twerps on repeat, and you should too.