We are Evie and Annabel, interns at Platform.  This week we were given a mission to review cupcake cafés in London.  Sounds like a sweet ruddy deal doesn't it?  It wasn't.  The day began full of hope and promise, the sun shining and a full intention to ignore the fact we had raging hangovers and only 3 hours sleep.  Stupidly we were both anticipating our first bites of cake and confident that we could breeze through the challenge.
MAISON BERTAUX
Before we'd even stepped through the doorway an awkward old guy had come over to breathe on us. He was all up in our grill lisping, "are you ordering for in or out?" before we'd even seen the ruddy cakes. Shuffling around like a demented Mr. Bean he immediately reduced the 'hot boy factor' of Maison Bertaux to about a 3 (would have been less but Annabel thinks maybe after a few 'margheritas' he might be doable – what a geradaphile). We were about to reply when the blonde woman behind the counter shouted, "What? What do you want?" in a tone that implied we'd sneaked into her living room and pissed on her cat.
It seemed The League of Gentlemen had opened a cake shop, and we were not locals.  However, Maison Bertaux is pretty charming and packed to the pastries with gingham furniture and antique knick-knacks so we braved the terrifying welcome.  We tried to sit at a nice table near the window, but apparently freewill was banned, "Go upstairs girls!" blondie screeched, as we were shunned to the less attractive part of the shop. Shaking, we ordered two cups of tea, "A POT. THAT'S A POT THEN!", and chose two cupcakes.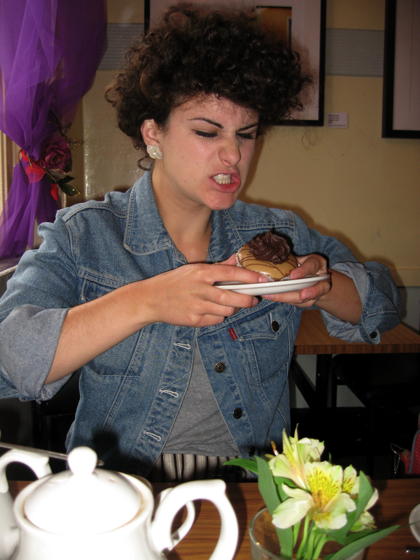 Well, we say cupcakes, but they actually broke the rules a bit by being encased in shortcrust pastry.  Icing quota was good though – that sickly sweet gets-stuck-in-your-teeth shit. All in all pretty amazing but did leave us feeling slightly ill after the very first bite.
Most of the other punters were pretty chilled but there was tragically a cluster American knobettes on the table next to us shrieking about Gwen Stefani and the joys of having a PA.  We managed to ignore them and, being innocent at this point to the extremes of the cupcake eating challenge that laid ahead of us, we were in heaven.
The place filled up with super cool bohemian types who were yapping away with the crazy lady so we sheepishly asked for the bill.  It shockingly came to £12.20 and we reeled back in horror as Blondie joked about how mums buy their kids cupcakes and end up paying £3.00 just so the kid can just eat the cherry off the top. She calls this her "cupcake trickery".  Then she started banging on about a bad review her place got on Google, and how they must feel like such fools after receiving backlash from her precious regulars.  We began shuffling towards the door - she was onto us.
In summary House of Bert is great. Loads of quirky decorations downstairs, and when you sat on the toilet you feel like Alice in Wonderland. Oh and they had about 50 toilet rolls in there, which is good if you get the wheat runs.
We'd had our first cupcake fix, but the comedown was approaching fast. We needed our next hit. And quick.
6/10