Have no doubt about it, the World Cup is the biggest international sporting event in the world. Yeah Yeah I know the Olympics is greater in scope and length blah blah… but outside of the men's 100m finals no-one actually gives a shit.
But for all the excitement and feverish obsession over football for a month, there's large portion of the population that don't want to be subjected to constant analysis of every touch of the ball, in fact, they hate football. Yeah laydeez I'm looking at you. But instead of trying to explain to those disinterested bitches about why they should care about "a bunch of guys running around trying to kick a leather ball for over an hour" (btw everything seems ridiculous if you boil it down to it's simplest terms), I'll engage y'all hoes on a level you can enjoy:
Hot dudes.
I've hand picked some slamming hotties for a fantasy (wink wink nudge nudge) starting 11 team (a flat 4-4-2 formation, nothing fancy) that have Gold medals in panty-dropping to get you into the World Cup mood (if it fails give this a go):
Goalkeeper:
Name: Victor Valdés
Team: Spain
He looks like the type of guy you'd have a holiday romance with. He'd serenade you on the beach with an acoustic guitar and give you a sea shell necklace as a leaving present that seems incredibly cute and touching until you get home and realise just how tacky and ugly it is.
Left back:
Name: Philipp Lahm
Team: Germany
A wee fella. Tiny and with a babyface, the type of babyfaced guy your mum really wants you to go out with because it brings out her maternal side.
Centre-Back
Name: Fabio Cannavaro
Team: Italy
He looks like the type of guy that goes to clubs with Ed Hardy tank tops and takes his shirt off at any given opportunity. He'd be incredibly cheesy but he still gets his smash on because all chicks want to slum it with a meat head once in a while.
Centre-Back
Name: Oguchi Onyewu
Team: USA
You can just about see his titty muscles in this picture but he has incredible titty muscles, like two massive slabs of steak. I don't even know how you get muscles like that. A gargantuan mass of meat,  it's what fucking a black guy is all about really.
Right Back:
Name: Gerard Piqué
Team: Spain
With that line in his eyebrow and his shaved head he looks like the type of guy's that used exist around 2005 who lived in sports wear, rode around on bikes on their estate and would occasionally try chirpse chicks with their hands down their jogging bottoms.
Right midfield:

Name: Jesús Navas
Team: Spain
Jesús Navas is a real life sweetheart, despite being incredibly talented and successful footballer he suffers from chronic homesickness and panic attacks. One, two, three, all together now: Awwwwwwww.
Centre Midfield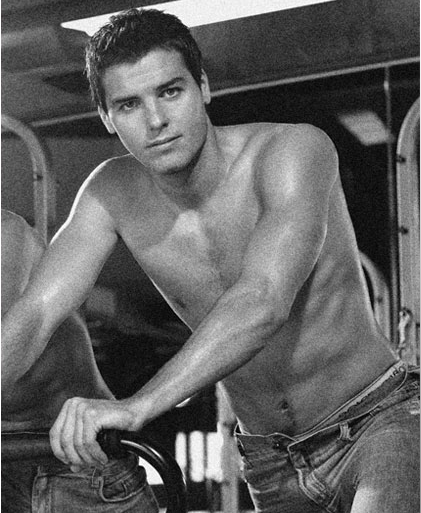 Name: Yoann Gourcuff
Team: France
He's so good looking he wouldn't even notice you if you and him were the only two people in the room. I'd hate to be friends with this guy, I'd always assume he was fucking my girlfriend whenever she wasn't around.
Centre Midfield
Name: Cesc Fàbregas
Team: Spain
If your first name rhymes with 'Sex' you really have it made. If he stays at Arsenal I'd happily let him enter me. He's THAT good (looking).
Left Midfield
Name: Benny Feilhaber
Team: USA
I could get lost in his eyes forever and never want to be found…..
Striker
Name: Roque Santa Cruz
Team: Paraguay
He may look like 'the cute' member of a South American boy band that's inexplicably sold over a half a billion records in Latin America, but he looks like the type of guy you could go steady with, he'd totally not cheat on you if you got married and stuff… I'm into that.
Striker
Name: Georgios Samaras
Team: Greece
His hair is better than most girl's. Just look at the shine and body on it. I'd do anything, and I mean anything to run my fingers through his hair
To manage this team of incredible dream-boats I think I'll go with Germany's Joachim Loew purely because he has a Sandy from The O.C vibe to him:
Platform's Fantasy Dreamy Team:
Valdés
Lahm - Cannavaro - Onyewu - Piqué
Feilhaber - Fàbregas - Gourcuff - Navas
Santa Cruz - Samaras
Yeah the squad sucks, but then again ladies, all the respectable men do if you know what I mean ladies!
What am I like!